Makalie Nickelson-Helm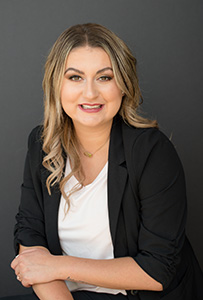 Licensed Master Esthetician
You can expect a warm friendly welcome and abundance of product knowledge when it comes to treatment with Makalie!
Makalie Nickelson-Helm is a licensed master aesthetician and certified medical assistant born and raised in Stanwood, bringing a vast array of experience in the field of dermatology and plastic surgery as she treats patients and assists Dr. Grant in surgery. She truly feels that her medical background in the skin and beauty industry is a benefit when it comes to treating patients and addressing skin care concerns. Her extreme attention to detail and friendly personality give her a leading edge when it comes to the practice of aesthetics. Makalie's goal is to give our Cascade Facial Surgery and Aesthetics patients the best result-driven treatment while exhibiting professional care.
Driven by her passion for skin care, Makalie jumped right into the industry at the young age of 18 when she attended the Gary Manuel Aveda Institute in Seattle. Upon graduating with her esthetics license, she knew she wanted to further her education in medical aesthetics. To pair with her esthetician training, Makalie attended PIMA Medical Institute in Seattle where she graduated as a certified medical assistant. She is a recent graduate of Evergreen Beauty College where she became a Master Aesthetician but her education will not stop there!
She loves the ever-changing industry of aesthetics and bringing new solutions to patients just like you!
Makalie currently lives in north Snohomish County with her husband and daughter where she enjoys spending time with her family, cooking, kayaking, reading and spending time outdoors when the weather permits.
She looks forward to meeting you! Click here to schedule an appointment with Makalie today.