Chin augmentation can dramatically improve the appearance of your entire face by correcting a receding chin or a chin that sags from the jawline (chin ptosis). At Cascade Facial Surgery, Dr. Jonathan Grant treats every patient as a unique individual. Your surgical plan is designed specifically to provide you with the result you want within the parameters of sound and safe medical practices.
Dr. Grant's training and experience as a reconstructive facial surgeon allows him to evaluate your chin and determine the best way to restore facial symmetry. This surgery usually involves the insertion of a chin implant.
Some patients have rhinoplasty (cosmetic nose surgery) along with chin augmentation to create greater facial harmony between the nose and chin.
Who Is a Candidate for Chin Augmentation?
Candidates for chin augmentation are physically fit, have realistic augmentation expectations, and dislike the look of their chin, including issues such as:
A weak, receding chin. A weak chin is also referred to as retrogenia and is characterized by a sloping appearance. A chin implant during your augmentation procedure may be ideal in this case.
Chin ptosis. If your chin sags from the jawline, you may have a condition known as chin ptosis. There are two types of this condition: static, which requires structural correction, and dynamic, where excess tissue tends to change the chin's appearance when the facial position changes, such as when smiling.
Shallow neck. Chin augmentation in certain individuals can add depth to the area just under the jawline.
Understanding the Chin Augmentation Procedure
Dr. Grant will examine you during your consultation and discuss what you dislike about your chin. Then, he can devise a surgical plan for you.
You should come to your appointment prepared to discuss you overall health, current medications, and specific areas of concern. It's ok if you do not know exactly which procedure you need. Dr. Grant will take into account all of your aesthetic concerns and make recommendations for specific procedures, or a combination of treatments, based on your goals.
During the consultation, we use the Canfield Mirror imaging software to help you see different looks on your face as an approximation of how you would like your chin to look.
The surgery is an outpatient procedure that can sometimes be performed using IV anesthetic and sedation, while some patients may require general anesthesia. You will be able to go home on the same day as your surgery.
Incisions for chin augmentations are usually made under the chin in a preexisting skin fold. The implant is then inserted in the proper place, and the incisions are sutured.
Recovering From Chin Augmentation
You can expect to need a week to two weeks off from work after chin augmentation surgery. You will have no diet restrictions, but please avoid sports and exercise for two to three weeks.
After all surgeries, there is some pain and swelling. Some patients also experience some mild bruising. There may also be some numbness in the incision areas and possible (rare) on the lip, which typically resolves within days to a few weeks.
You can take pain medication, and we will give you instructions how to take care of your chin during this time. Sleeping upright or with your head elevated for the first two weeks will help to keep swelling to a minimum.
Note that swelling is the last symptom to resolve. While your chin will look better immediately due to the implant, it will take some time for the last bit of swelling to go down. Dr. Grant will check you intermittently throughout the first year following your surgery. Most of our patients remark that the recovery period is quite easy and well worth the results.
Here is a general timeline of the chin augmentation recovery process:
Immediately following chin augmentation surgery. Right after surgery, and for about two or three days, you may experience swelling and tenderness. The dressing that Dr. Grant applies when your surgery is complete will remain during this time.
The week following surgery. Dr. Grant may recommend you refrain from chewing as much as possible for about one week post-op. You may need to consume a liquid diet or soft foods during this time. Tightness around the chin area is common, but swelling should begin to subside, and normal activities may be resumed a few days later.
Six weeks after surgery. At the six-week mark, most swelling will have subsided, and your results should become more apparent. You should be getting back to regular life at this time, and your swelling will continue to subside until it is completely gone.
You should report any unusual bleeding, swelling, or lingering pain to Dr. Grant. You will receive full recovery and care instructions so that you know what to expect.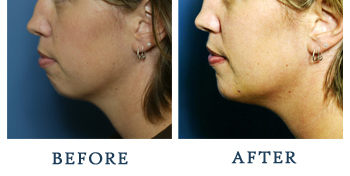 Chin Augmentation FAQ's
What is chin augmentation?
Chin augmentation is a procedure that addresses receding and weak chins. It essentially increases the chin's projection, as well as the height, if necessary. While implants are common in this procedure, not all chin augmentation procedures require them.
What does chin augmentation improve?
Chin augmentation improves the appearance of chins that do not project naturally on their own. When viewing your side profile, the forehead, nose, and chin are the three points that project the most. If you notice that your profile appears unbalanced because of a receding or sagging chin area, chin augmentation may be right for you.
Are chin augmentation results obvious?
When you receive a chin augmentation from Dr. Grant, your results appear natural, whether an implant is used or not. Chin augmentation should improve facial harmony. Friends and family may notice a difference in your face in that it appears more balanced, but likely will not be able to tie that change specifically to chin augmentation.
Can chin augmentation be combined with other treatments?
Chin augmentation procedures are usually completed on their own, but it is common to combine this procedure with others. Patients may opt for neck liposuction, rhinoplasty, and additional procedures that improve facial balance along with chin augmentation.
Can chin augmentation help with neck sagging?
When the projection of the chin is corrected during augmentation, the neck's appearance can change as well. Many patients observe a more lean and youthful profile of the neck when the chin's projection increases since the skin of the neck is pulled more taught. It should be noted that while chin augmentation can contribute to an improved neck appearance, a more dramatic change can be achieved by choosing a procedure that specifically targets the neck.
Learn More
If you are interested in chin augmentation in the Western Washington area, contact us to find out if you're a good candidate for the procedure.
Contact Us Today!