Also Serving Blepharoplasty Patients in Everett & Bellingham
Eyelid surgery (also called blepharoplasty) corrects sagging upper eyelids and/or signs of aging under the eyes. The result is an overall younger look to the eyes and upper portion of the face.
At Cascade Facial Surgery, Dr. Jonathan Grant treats every patient as a unique individual. Your surgical plan is designed specifically to provide you with the result you want within the parameters of sound and safe medical practices. His training and experience as a reconstructive facial surgeon allows him to provide you with a natural-looking result from your eyelid surgery.
He performs rarely offered techniques for fine lines under the eyes, as well as for tear trough deformities – the appearance of dark rings or circles under the eyes.
Some patients who receive eyelid surgery also have a brow lift and/or a face and neck lift at the same time to address issues such as sagging eyebrows or sagging jowls.
I decided to have an eyelid lift. This choice has changed my attitude about cosmetic surgery. Before I was uncertain what to expect, but I needed to see better... Read More »
Who is a Candidate for Eyelid Surgery?
Candidates for eyelid surgery are usually men and women over the age of 35 who have signs of aging on the upper or lower eyelids, including:
Sagging, loose skin on the upper eyelids
Puffiness of the upper eyelids
Bags/puffiness under the eyes
Drooping lower eyelids
Tear troughs
Dark undereye circles
Crepey skin under the eyes
Eyelid surgery can be done on the upper or lower lids only, or it can be done on both lower and upper lids.
The surgery is also appropriate for younger patients who have premature loose skin on the upper lids or bags/puffiness under the eyes.
Understanding the Eyelid Surgery Procedure
Dr. Grant will examine you during your consultation and discuss what you dislike about your eyelids. If you are an appropriate candidate, you can then devise a surgical plan together.
During the consultation, we may use the Canfield Mirror imaging software to simulate how your eyes will look after the surgery.
Eyelid surgery is an outpatient procedure that is usually performed using IV anesthetic and sedation, but some limited eyelid procedures can be done in the office setting with just local anesthesia. You will be able to go home on the same day as your surgery.
Upper Blepharoplasty
Upper blepharoplasty involves an incision in the crease of the upper eyelids so that the very small scar will not be seen. The incision line and areas from which excess tissue is to be removed will be precisely marked. During surgery, loose skin — and if necessary, fat — is removed. Muscle laxity or excess bulk can also be addressed surgically. The incisions are then sutured together. Once the area heals, the eyelid skin should look smoother and tighter, giving the eyes a more refreshed and rested look.
Lower Blepharoplasty
Lower blepharoplasty may require an incision under the lower eyelashes or on the underside of the lower eyelid (called transconjunctival blepharoplasty). In either case, the scar is well-hidden. Lower eyelid surgery is intricate and requires a great deal of skill. Prior to surgery, the incision lines are marked as are areas from which excess tissue is to be removed. Excess fat or loose skin is removed and the surrounding muscles can be adjusted if needed. Once the surgical modifications have been made, the incisions are sutured together.
If Dr. Grant is improving tear troughs, he creates a pocket at the top of the cheekbone and repositions fat to restore the loss of volume. This technique reduces lower eyelid puffiness and softens under-eye circles.
For those who have fine lines on the lower eyelid, he can perform what is called a "skin pinch" to make the skin smoother. Only a local anesthetic and no sedation is required for this simple procedure if it is done independently of other blepharoplasty techniques.
After the lower eyelids have healed, the skin should look smooth and the eyes should look more awake and well-rested.
Dr. Grant may suggest that some patients have laser resurfacing after eyelid surgery or use specific skin care products for the area around the eyes to address fine lines and wrinkles on the surface of the eyelid skin.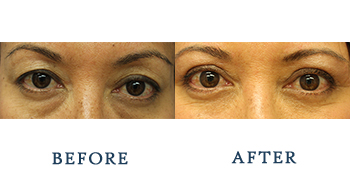 Recovering From Eyelid Surgery
You can expect to need a week to ten days off from work after eyelid surgery. Please avoid sports and exercise for about three weeks. You can take pain medication to ease your discomfort as you heal.
After all surgeries, there is some pain, tightness, and swelling. Some patients also experience some mild bruising and numbness. These symptoms are to be expected. Your eyes may intermittently tear and feel dry. We will provide eye drops and ointment for you, and you can use cool compresses for the first three days or so to reduce swelling. Sleeping upright or on your back with your head elevated for a couple of weeks will also help to keep swelling to a minimum. We will give you instructions for showering and washing your face.
Note that swelling and numbness are the last symptoms to resolve. It will take a few weeks for you to see the final results of your surgery. Any external scars from eyelid surgery will mature for a full year. Most of our patients remark that the recovery period is easier than they expected and well worth the results.
Frequently Asked Questions About Eyelid Surgery
Will I experience any pain during surgery?
No. If you are only having local anesthetic for your procedure, the numbing injections will sting for a few seconds but then the surgery will be painless. If you are having IV sedation, you shouldn't feel anything at all, since you will be comfortably sedated when the numbing injections are started. After surgery, you may have some mild soreness or tightness in your eyelids. Any discomfort can be alleviated with cold compresses and over-the-counter or prescription painkillers.
How long will my results last?
The results of eyelid surgery can last for many years. Your eyelids will continue to age and succumb to the effects of gravity, although they will always look younger than they would if you did not undergo surgery.
How safe is eyelid surgery? Are there any side effects?
When performed by a qualified, experienced surgeon like Dr. Grant, eyelid surgery is very safe. Temporary aftereffects of surgery include bruising, swelling and soreness in the eyelid area.
As with any surgery, there is the risk that eyelid surgery can result in cosmetic or medical complications, particularly if the surgeon performing the operation does not have the experience or skill of Dr. Grant. Possible complications include the following:
Blindness
Double vision
Infection
Bleeding
Dry eyes
Skin discoloration
Eyelid numbness
Will I have any visible scars from blepharoplasty?
No. The surgical incisions are created in the creases of the eyelids or, sometimes during lower eyelid surgery on the underside of the eyelid. This ensures that any scarring blends well with the natural skin transitions.
Can I get cosmetic eyelid surgery if I have had LASIK or PRK?
Absolutely. You should allow your eyes to heal completely from LASIK or PRK before pursuing eyelid surgery to ensure you do not have any dry eye symptoms.
Can I have other procedures performed at the same time as blepharoplasty?
Yes, as long as your surgeon clears you to undergo multiple procedures at the same time. Combining surgeries allows you to have a single recovery period and only undergo anesthesia once.
What are the costs of blepharoplasty?
Our team can give you a specific pricing quote during an eyelid surgery consultation and also explain the available financing options such as CareCredit and Shorr Solutions. General pricing estimates can be found on our website.
Does blepharoplasty help dark circles?
Blepharoplasty does not treat dark circles under the eyes caused by hereditary factors, thinness of the lower eyelid skin, allergies or hyperpigmentation of the skin. However, lower blepharoplasty can treat tear trough deformities, or puffiness under the eyes that casts shadows that resemble dark circles.
Can you have eyelid surgery twice?
If you are not satisfied with the results of your eyelid surgery, you may consider eyelid surgery revision. Consult with a reputable facial plastic surgeon who has plenty of experience with the procedure and can overcome the unique challenges associated with it.
Learn More
If you are interested in eyelid surgery in the Western Washington area, contact us to find out if you're a good candidate for the procedure.
Contact Us Today!