Also Serving Ear Surgery Patients in Everett & Bellingham
Ear surgery or otoplasty can dramatically improve the appearance of your ears, whether you are concerned with prominent ears, misshapen ears, or an ear injury.
At Cascade Facial Surgery, Dr. Jonathan Grant treats every patient as an individual. All ears are unique, so your surgery must also be unique. Your surgical plan is designed specifically to provide you with the result you want within the parameters of sound and safe medical practices.
Dr. Grant's training and experience as a reconstructive facial surgeon especially comes into play during ear surgery, as the process may involve reshaping the cartilage of the ear.
Who is a candidate for Ear Surgery?
Candidates for ear surgery include adults and children (usually over the age of five) who dislike the look of their ears, including issues such as:
Prominent ears that stick out from the face
Misshapen ears
Injuries to the earlobes, including piercing injuries, such as torn earlobes, or stretched out earlobes from gauge piercing
Ears that are too large
Ears that do not match in size or shape
Earlobes that have stretched and increased in size
Understanding the Ear Surgery Procedure
Dr. Grant will examine you during your consultation and discuss what you dislike about your ears. Then, he can devise a surgical plan for you.
The surgery is an outpatient procedure that can sometimes be performed using IV anesthetic and sedation, while some patients may require general anesthesia. Children are recommended to have surgery using general anesthesia. You (and your child, where applicable) will be able to go home on the same day as the surgery. Some adults are candidates for having the procedure done with local anesthetic alone.
For prominent ears that stick out from the head, the procedure is sometimes called "ear pinning." This involves permanent sutures that hold the backs of the ears closer to the head.
For reshaping of the ears, cartilage may have to be removed. In some cases, cartilage may be taken from one part of the ear and grafted to another area. If there is not enough cartilage available from the ears, it can be harvested from the ribs in rare cases (from the patient or a donor). If this is necessary, Dr. Grant will discuss it with you before your surgery.
If the earlobes have been stretched, a portion is usually excised to make them smaller. In the case of torn ear piercings, the hole is sutured for a smaller opening, or it can be completely closed if the patient prefers.
Whatever methods Dr. Grant uses, the goal is to make your ears look as normal as possible.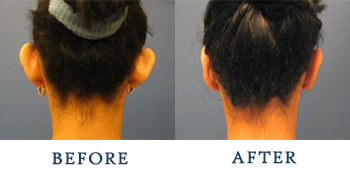 Recovering From Ear Surgery
You can expect to need a week off from work or school after ear surgery, although for more complex cases, more downtime may be necessary. The ears will be bandaged for a weekday and night, then at night only for another three to five weeks.
Ear buds cannot be used as they heal. Please avoid sports and exercise for three to six weeks. It is very important that the ears not suffer any injuries, such as being hit by a ball, during the healing period.
After all surgeries, there is some pain and swelling. Some patients also experience some mild bruising. These symptoms are to be expected.
You can take pain medication, and we will give you instructions how to take care of your ears during this time. Sleeping upright or with your head elevated for the first few nights will help to keep swelling to a minimum. It is important not to sleep on your sides for a week or two.
Note that swelling is the last symptom to resolve. While the ears will look better immediately, it may take months for the last bit of swelling to go down. Most of our patients remark that the recovery period is quite easy and well worth the results.
Learn More
If you are interested in ear surgery in the Western Washington area, contact us to find out if you're a good candidate for the procedure.
Contact Us Today!