A brow lift (also called a forehead lift) corrects the sagging or low position of the eyebrows. The result is an overall younger look to the eyes and upper portion of the face.
At Cascade Facial Surgery, Dr. Jonathan Grant treats every patient as a unique individual. Your surgical plan is designed specifically to provide you with the result you want within the parameters of sound and safe medical practices.
Dr. Grant's training and experience as a reconstructive facial surgeon allows him to provide you with a natural-looking result from your brow lift.
Some patients who receive a brow lift also have eyelid surgery and/or a face and neck lift at the same time to address issues such as sagging upper eyelids or sagging jowls.
Who is a Candidate for a Brow Lift?
Candidates for a brow lift are usually men and women over the age of 35 who have signs of aging on the forehead, including:
Sagging or heavy eyebrows
Eyebrows that have lost their natural arch due to gravity
Mismatched eyebrows due to gravity
Deep horizontal forehead creases
Deep frown lines (the "11" lines between the eyebrows)
Understanding the Brow Lift Procedure
Dr. Grant will examine you during your consultation and discuss what you dislike about your eyebrows and forehead. Then, he can devise a surgical plan for you.
During the consultation, we use the Canfield Mirror imaging software to simulate how your eyebrows and forehead may benefit from surgery.
A brow lift is an outpatient procedure that is sometimes performed using IV anesthetic and sedation, but some patients may require general anesthesia. You will be able to go home on the same day as your surgery.
Today, most brow lifts are endoscopic, which means that no more than five small incisions are made within the hairline. An endoscope is inserted into the incisions with a camera on the end. Dr. Grant uses the visual images provided by the camera to direct his surgical instruments. The muscles and skin are elevated to lift and reshape the eyebrows.
A traditional brow lift is generally used on patients with more significant signs of aging. In this case, an incision is made roughly from ear to ear behind the hairline above the forehead or within deep forehead creases just above the eyebrows. The skin and underlying tissues are lifted. If necessary, excess skin is removed.
The incisions are closed with sutures or staples, which are removed in one to two weeks.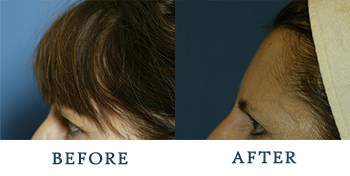 Recovering From a Brow Lift
Your incisions will be bandaged. You can expect to need approximately a week to ten days off from work after a brow lift. Please avoid sports and exercise for about three weeks.
After all surgeries, there is some pain, tightness, and swelling. Some patients also experience some mild bruising and numbness. These symptoms are to be expected. You may also experience some hair loss or thinning around the incisions, but this typically returns to normal within a matter of weeks.
You can take pain medication to ease your discomfort as you heal. Sleeping upright or on your back with your head elevated for a couple of weeks will help to keep swelling to a minimum. We will give you instructions for showering, washing your hair, and using hair products/appliances.
Note that swelling and numbness are the last symptoms to resolve. It will take a few weeks for you to see the final results of your surgery. Your scars will evolve and mature for a full year from the time of your surgery. Most of our patient's remark that the recovery period is easier than they expected and well worth the results.
Learn More
If you are interested in a brow lift in the Western Washington area, contact us to find out if you're a good candidate for the procedure.
Contact Us Today!