Also Serving Laser Skin Resurfacing Patients in Everett & Bellingham
Fractionated Laser Skin Resurfacing is a non-surgical procedure that can reduce surface lines and wrinkles, hyperpigmentation, sun damage, acne scars, and broken blood vessels (telangiectasias). This laser passes energy into deep layers of the skin and induces collagen remodeling that continues to tighten and tone the skin for months after treatment.
The "fractionated" technology ablates a fraction or a percentage of the skin's surface area. In other tiny ablation areas, new skin grows. The ablative areas are so small that they are closed within just a few days, so the downtime is minimal.
At Cascade Facial Surgery, Dr. Jonathan Grant treats every patient as a unique individual. He will evaluate your skin and determine the best way to use the laser to treat the issues that concern you. Some patients require more than one treatment spaced at least six months apart. Skin discoloration and scars often take the most procedures to resolve.
For those with signs of aging related to lost volume or muscle activity, injectables such as Botox®, dermal fillers, or fat transfer may be necessary. Fractionated laser skin resurfacing is also frequently recommended for face and neck lift patients, as it helps to smooth the small surface wrinkles that surgery cannot address.
I use a lot less make up now. My skin looks healthy and fresh, the brown spots and little broken blood vessels are diminished if not gone altogether and... Read More »

—Anonymous Fractional CO2 Laser Patient
Who is a Candidate for Fractionated Laser Skin Resurfacing?
Candidates for fractionated laser skin resurfacing are those who have skin issues such as:
Fine lines and wrinkles on the surface of the skin
Sun damage, including freckles and melasma
Hyperpigmentation and uneven skin tone
Facial redness such as broken blood vessels, spider veins, and rosacea
Acne and injury scars
Laser treatments are sometimes not recommended for those with darker skin tones, as it can cause skin lightening (hypopigmentation). However, fractionated lasers are less likely to cause these effects since they only treat a "fraction" of the skin.
Your skin will be more sensitive to sunlight after laser treatments, so the most popular times of the year for resurfacing are fall and winter, as it is easier to minimize sun exposure during those seasons. If you wish to have the treatments in the spring and summer, you simply need to be vigilant about applying sunscreen and using sun protective clothing like a sun hat.
Understanding the Fractionated Laser Skin Resurfacing Procedure
Dr. Grant will examine you during your consultation and discuss what you dislike about your skin. Then, he can devise a treatment plan for you using the laser technology.
Fractionated laser skin resurfacing is typically done with light sedation, but small areas can be done with a local anesthetic alone. Most patients prefer to be sedated to keep them relaxed. You will be able to go home the same day, but if you have been sedated, you will need someone else to drive you.
Your eyes will be protected, and the laser device will be passed over the areas to be treated. The procedure usually only takes about 30-45 minutes.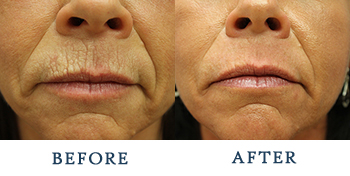 Recovering From Fractionated Laser Skin Resurfacing
Some degree of redness (erythema) is always expected after laser treatment. Typically, this redness begins to fade to pink after a few days and is concealable with mineral-based makeup by around 7-10 days in most cases. If you are treating skin redness, it may appear to get worse for a period of time but will ultimately improve after you have healed from the treatment.
Anti-viral medications are typically prescribed and started before laser treatment to minimize the risk of post-treatment cold sores, which are a possible side effect.
Dr. Grant will provide you with medical grade post-treatment products to use and instructions for use after your procedure. You can usually resume your regular skin care products around 3 or 4 weeks after the procedure. Be sure to let us know if you have a history of sensitivity to any particular skin care products.
Learn More
If you are interested in fractionated laser skin resurfacing in the Western Washington area, contact us to find out if you're a good candidate for the procedure.
Contact Us Today!