A face and neck lift can help you look years younger by subtly tightening the skin and underlying tissues of the face and neck. A face lift is often combined with fat removal and tightening of the two muscles just under the skin in the neck. It improves your appearance from the cheeks down, including the jawline.
At Cascade Facial Surgery, Dr. Jonathan Grant treats every patient as a unique individual. Your surgical plan is designed specifically to address the result you want within the parameters of sound and safe medical practices.
Dr. Grant's training and experience as a reconstructive facial surgeon allows him to evaluate your face and neck to determine the best way to recontour your face and neck for a natural-looking result.
Some patients have a brow lift or eyelid surgery along with a face and neck lift to address signs of aging above the cheeks. We also sometimes recommend that face and neck lift patients have fractional laser skin resurfacing at the same time or after they have healed from surgery. This treatment addresses the fine surface lines and wrinkles that cannot be alleviated with a surgical procedure.
I recently had a Signature Facelift and upper and lower Blepharoplasty. Before making this important decision, I researched thoroughly what it would entail. I was nervous about perhaps looking... Read More »
Who is a Candidate for a Face and Neck Lift?
Candidates for a face and neck lift are those who have signs of aging on the face from the cheeks to the neck, including:
Jowls (a sagging jawline)
Aging around the cheeks
Nasolabial folds (from the nose to the mouth)
Marionette lines (from the mouth to the chin)
Double chin
Excess fat and loose skin on the neck
Muscle bands on the neck (sometimes called "turkey neck")
Most candidates for a face and neck lift are between the ages of 40 and 70.
Understanding the Face and Neck Lift Procedure
Dr. Grant will examine you during your consultation and discuss your concerns about your face and neck. Then, he can devise a surgical plan for you.
During the consultation, we often use the Canfield Mirror imaging software to simulate how your face and neck can change with surgery.
A face and neck lift is an outpatient procedure that can sometimes be performed using IV anesthetic and sedation, while some patients may require general anesthesia. You will be able to go home on the same day as your surgery.
For a traditional face and neck lift, an incision is made within the hairline from the temple around the backs of the ears, as well as an incision under the chin. Excess skin is removed, and the underlying tissues are tightened and lifted to a more youthful position. If necessary, liposuction is performed to remove excess fatty tissue. The skin is then redraped and sutured.
A mini-facelift involves a shorter incision, usually behind the ears, and primarily tightens the jawline. Some improvements can be seen in the neck, but it does not lift the neck as aggressively as a traditional lift. Some mini-facelift procedures can be done with local anesthetic alone.
For those who only have signs of aging on the neck, an isolated neck lift can be performed with an incision under the chin. This procedure alone does not improve the jawline, however.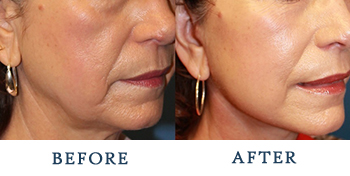 Recovering From a Face and Neck Lift
You can expect to need approximately two weeks off from work after a face and neck lift. Please avoid sports and exercise for three to six weeks.
After all surgeries, there is some pain, tightness, and swelling. Some patients also experience some mild bruising. These symptoms are to be expected. You will wear a wrapping around your head, and you will have drains inserted behind the ears to catch excess fluids overnight after surgery. We will remove these the day after surgery.
You can take pain medication, and we will give you instructions how to take care of your face and neck during this time. Sleeping upright or on your back with your head elevated for a couple of weeks will help to keep swelling to a minimum. We will give you instructions for showering, washing your hair, and cleaning your suture line areas.
Note that swelling is the last symptom to resolve. It can take weeks and sometimes months for you to see the final results of your surgery. Your scars will evolve and mature for up to a year after surgery. Most of our patient's remark that the recovery period is easier than they expected and well worth the results.
Learn More
If you are interested in a face and neck lift in the Western Washington area, contact us to find out if you're a good candidate for the procedure.
Contact Us Today!