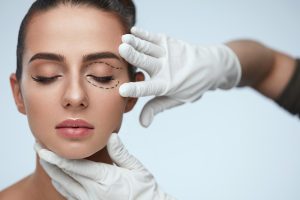 Droopy lower eyelids and sagging, loose skin on the upper eyelids add years to the appearance of your face. Perhaps no other plastic surgery is as effective at turning back the clock as eyelid surgery. Top Mount Vernon facial plastic surgeon Dr. Jonathan Grant of Cascade Facial Surgery & Aesthetics explains how eyelid surgery, or blepharoplasty, restores a youthful, wide-eyed appearance.
Eyelid Surgery Benefits
Do drooping eyelids cause you to look tired, or even worse, angry? Is the sagging of your upper eyelids making it hard to apply makeup? Do you look in the mirror and wonder where that wide-eyed appearance has gone? Eyelid surgery is an effective and straightforward way to look more youthful and alert. The effect is remarkable, and you are likely to get plenty of remarks about how well you look. There's no change to the eye shape or expression.
Your surgical results last the rest of your life. Of course, the aging process continues, but you should enjoy your more youthful appearance for years to come.
While insurance does not cover cosmetic surgeries, if your eyelids droop so much that they are affecting your field of vision, insurance may apply.
Upper and Lower Blepharoplasty
Upper blepharoplasty removes the skin and excess fat of the upper eyelid. Lower blepharoplasty eradicates the bags and wrinkles beneath the eye. Via a tiny incision, fat is either removed or repositioned. If the lower eyelid requires skin tightening, that is done.
Since incisions are placed within the natural crease, scars aren't visible when your eyes are open.
Eyelid Surgery Candidates
Candidates for eyelid surgery should not have serious eye conditions or medical issues affecting healing. Because smoking can impair healing, candidates should quit before undergoing the procedure.
Eyelid Surgery Risks
Blepharoplasty is a generally safe surgery, but any surgery involves risks. Potential risks include:
Infection
Dry eye
Eyelid numbness
Sunlight or bright light sensitivity
Temporary, and rarely, permanent vision changes
Procedures Done in Conjunction With Blepharoplasty
Many patients decide to have complementary procedures done at the same time as their eyelid surgery. For instance, brow lift addresses eyelid hooding caused by sagging eyebrows. The doctor will discuss other plastic surgery options for the upper face.
Contact Us
If you would like more information about how eyelid surgery refreshes your appearance, call Cascade Facial Surgery & Aesthetics in Mount Vernon today at 360-336-1947 or contact us online to schedule a consultation with dual board-certified facial plastic surgeon Dr. Jonathan Grant. He will answer all of your questions so you can make an informed decision regarding the procedure.