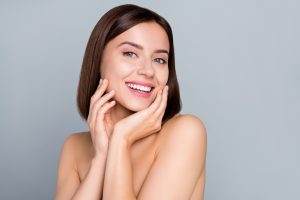 It can be frustrating to gaze in the mirror and see a face that looks increasingly older, tired, and wrinkled. When you crinkle your brow in concentration, for example, vertical lines may appear between the brows. When you were younger, these frown lines may have disappeared after relaxing your brow; however, as you age, they may stick around. Also known as glabellar lines, frown lines deepen over time and can even change the natural expression on your face. If you are seeking a cosmetic treatment that can help restore a youthful appearance, ask the experts at Cascade Facial Surgery & Aesthetics about Jeuveau, which is designed to do exactly that. Continue reading to learn more about Jeuveau.
What Is Jeuveau?
Jeuveau is composed of purified botulinum toxin type A complex that can help eliminate unflattering facial wrinkles and produce a younger-looking face. It works by preventing certain muscles from contracting with facial expressions. Jeuveau can soften existing wrinkles while also preventing further creasing from developing. Dr. Grant can personalize your Jeuveau treatment for optimal results.
Is Jeuveau for Me?
Jeuveau appeals to people looking to reclaim a smoother, more youthful facial appearance and is a great solution for addressing early signs of aging. This procedure is customizable and can be tailored according to your specific facial anatomy and contours. Additionally, Jeuveau can help address issues such as:
Deep glabellar lines
Forehead lines
Crow's feet
Lip lines
The Jeuveau Procedure
During your procedure, a series of injections will be made using thin needles to minimize discomfort. Because there is so little pain involved, it makes for a comfortable procedure for the patient. The skilled professional performing your treatment will place the product in specific areas to produce the most beautiful, natural results possible. There is no downtime required following your procedure, and with only a minimal risk of bruising, you will be able to resume your normal activities soon after your appointment.
The result is a rejuvenated complexion that you can be proud of seeing in the mirror. Others may notice that you look younger or more refreshed.
Try Jeuveau Now
The best way to determine if Jeuveau is right for you is to schedule a consultation with skilled facial plastic and reconstructive surgeon Dr. Jonathan Grant, who will examine your face and skin concerns and identify the best option for your needs. Contact our office today at (360) 336-1947 to get started.