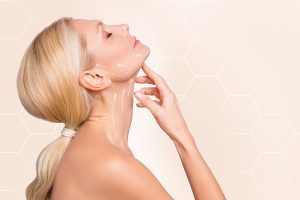 The face and neck are the first areas to show signs of aging. While these creases, folds and sagging tissues are normal parts of getting older, they may make you look beyond your years. Sun exposure and lifestyle habits, such as smoking and poor diet, can exacerbate changes in your skin. Face and neck lift focuses on the cheeks, jawline, submental area and neck to tighten and reposition tissues for a younger complexion.
Dr. Jonathan R. Grant is a double board-certified facial plastic surgeon in Mount Vernon who has helped many women and men reduce signs of aging. He treats each patient uniquely, designing a surgical plan to address their specific cosmetic concerns using best medical practices. With extensive training and experience as a plastic and reconstructive facial surgeon, Dr. Grant can recontour your face and neck for natural-looking results that take a few years off your appearance.
Face and neck lift tightens the structural tissues and repositions displaced fat. Dr. Grant focuses on making you look like a younger version of yourself without creating an artificial, windblown look. He trims away excess skin and may remove fat from under the chin.
Some signs you may be a good candidate for face and neck lift include:
1. Jowling or a Sagging Jawline
Jowling happens as you age, and your skin produces less elastin and collagen, causing sagging skin. The excess skin on the low face hangs below the jawline and chin. Fat shrinks and descend into this area, worsening jowls and possibly bringing attention to a double chin. Face and neck lift is the ideal procedure to address jowling.
2. "Turkey Neck" and Neck Bands
"Turkey neck" is the unfortunate phrase used to describe what happens when skin sags under the chin and along the neck and the neck muscles weaken. That droopy, wrinkled appearance resembles that of a turkey. Neck bands are another issue that happens as you get older. The vertical platysmal muscles that run on either side of the neck pull apart and roll upward, creating visible bands that stretch from the lower neck to under the chin. Turkey neck and neck bands can make you look older than your given age.
3. Significant Lines and Wrinkles in the Lower Face
Face and neck lift focus on the lower face. Nasolabial folds tend to form and extend from the nose to the corners of the mouth, and marionette lines stretch from the mouth to the chin. Sun exposure, smoking, repeated facial expressions and other factors may speed up and worsen these wrinkles. Face and neck lift elevates the tissues and smooths the lower face and neck for a softer appearance.
If you're interested in face and neck lift, contact Dr. Grant in Mount Vernon to schedule your consultation. Call Cascade Facial Surgery and Aesthetics at (360) 336-1947 or fill out our online contact form to make an appointment.