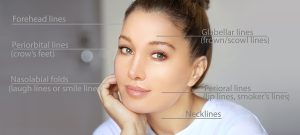 Dermal fillers can combat mild to moderate signs of aging and restore a youthful appearance for up to a year or longer. These injectables work well for people who have lines, wrinkles and volume loss in various facial areas but also have good skin quality and minimal sagging. Our board-certified facial plastic surgeon in Mount Vernon may recommend dermal fillers for patients looking to enhance their complexion who are not quite ready for a facelift or other facial plastic surgery.
Dr. Jonathan Grant offers Radiesse® and hyaluronic acid fillers, including Juvéderm®, Restylane® and Revanesse Versa. He also provides fat grafting that involves harvesting fat from a donor location, such as the thighs or abdomen, and reintroducing it into facial areas to add fullness and volume. Fat grafting offers longer-lasting results than dermal filler products because the transferred fat is the patient's own tissues and develops a strong blood supply in the face.
How Do Dermal Fillers Work?
Hyaluronic acid fillers contain a substance that occurs naturally in your tissues — primarily your eyes, cartilage, joints and skin. This compound binds to moisture and provides the supple skin appearance associated with youth. Fillers made with hyaluronic acid work to reduce skin depressions and volume loss and replenish hyaluronic acid in the skin. Juvéderm®, Restylane® and Revanesse Versa may improve acne scarring, moderate to severe lines and wrinkles and cheek depressions. Some variations of these fillers can enhance lip size.
These dermal fillers offer immediate results, but how long they last depends on the treated area and product. Juvéderm® results can last one to two years. Restylane® results can last six months for lip augmentation, a year for cheek fullness and up to 18 months for nasolabial folds around the nose and mouth. Revanesse Versa results may last up to 12 months.
Radiesse® is a different kind of dermal filler that is made with calcium hydroxyapatite (CaHA). This compound is found in human bones and created biosynthetically (without animal products), which reduces the risk of allergic reactions. Radiesse® works by strengthening the skin through stimulating collagen and elastin production to reduce wrinkles and loose skin. The CaHA in Radiesse® creates the building blocks for collagen and elastin to fill in gradually for immediate results that improve as your body makes more of these youthful proteins.
If you're interested in dermal fillers or facial plastic surgery, please contact Cascade Facial Surgery and Aesthetics in Mount Vernon, Washington. Schedule a consultation with Dr. Grant by calling (360) 336-1947 or filling out our online contact form.