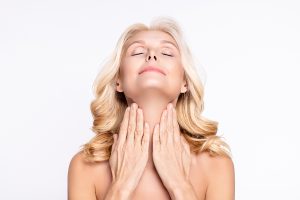 Many people are interested in the cosmetic benefits of face and neck lift procedures. Both facelift and neck lift can generate a much more youthful appearance by tightening the skin and the tissues of the face and neck.
Dr. Jonathan Grant often combines a facelift procedure with fat removal and tightening of the neck muscles under the skin. More contoured cheeks and a more contoured jawline is a look that many desire. Before considering a facelift or neck lift, however, there are some questions Dr. Grant and our team recommend you ask yourself.
Am I a smoker? If so, am I willing to quit?
Smoking can affect your procedure results negatively because nicotine interferes with the body's healing capacity by limiting oxygen and blood circulation. This means a higher risk of infection, more pain, slower wound healing and more pronounced scarring. If you plan to undergo a cosmetic facelift procedure, you should stop smoking and be nicotine-free for at least six weeks before surgery. It is recommended that you also avoid smoking after you have recovered, as smoking accelerates tissue aging and will eventually negatively affect your facelift results.
Am I a better candidate for traditional facelift or mini facelift?
Consider what results you desire from your facelift procedure. In a traditional face and neck lift, the incisions are made from the temples back around the ears along the hairline, and under the chin. Loose skin is removed, and the tissues are simultaneously tightened, creating a younger and smoother appearance. Liposuction is sometimes also utilized if needed. With a mini facelift, the incision under the chin is much shorter, and the neck muscles aren't tightened as much so the procedure mainly tightens the jawline. The neck appearance is improved to some extent, but results are not as dramatic, especially in the neck, as with a traditional face and neck lift.
Am I prepared for surgery and recovery?
It is important to have realistic expectations about facelift and neck lift surgery and the associated recovery time. Anesthesia is used during surgery, which means you will not be awake or recall the procedure. Post-surgical discomfort is generally minimal. The total treatment time depends on the scope of your surgery. Dr. Grant can advise you in more detail on your total treatment time. Scarring should be minimal and hard to notice, but you should be prepared to follow aftercare guidance. Avoid smoking and sun exposure during the recovery process to minimize scarring.
Are there other enhancing procedures I may want to consider as well?
Facelift aims to rejuvenate the middle and lower face. At times, facelift can be combined with brow lift or eyelid surgery, with the aim of minimizing creases and wrinkles around the eyes, brows and forehead. Additionally, treatments like Botox® or filler injections can be used to enhance a facelift's effects, by minimizing wrinkles and increasing volume where needed. Treatments like chemical peels or laser skin resurfacing can also be used to improve facial skin texture and even out pigmentation inconsistencies.
Contact Cascade Facial Surgery & Aesthetics in Mount Vernon
If you are interested in learning more about facelift or neck lift procedures, Dr. Grant can consult with you on your goals. Contact Cascade Facial Surgery & Aesthetics at (360) 336-1947 to schedule. We are here to help!