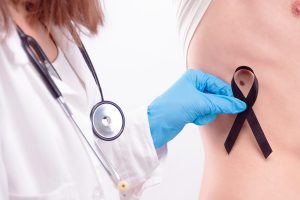 If you have a spot that you think may be skin cancer, Dr. Jonathan Grant can perform a biopsy to determine whether the tissue is cancerous. If the tissue is found to have cancer, Dr. Grant can coordinate with another physician to perform a Mohs surgery to remove the cancer. Then, Dr. Grant can perform skin cancer reconstruction surgery to minimize the appearance of the resulting scars.
What Should I Expect During Skin Cancer Reconstruction?
No two skin cancer reconstructions are alike. Dr. Grant will design a surgical plan that is tailored to give you the best possible result in a safe manner. Your skin cancer reconstruction may involve skin grafts or tissue grafts that have been harvested from other parts of your body. Your skin cancer reconstruction may be done with local anesthetic alone or may require IV anesthetic with sedation or general anesthesia. There are four main techniques that a plastic surgeon will use in skin cancer reconstruction. They are as follows:
Secondary intent – Relies on your skin's own healing properties. This procedure can take quite a bit of time to heal.
Primary closure – Uses sutures to close a wound in a relatively straight line. Sometimes additional skin is removed to allow for linear closure without puckering of the suture line at each end.
Local flap closure – Nearby healthy tissue is used to close the wound.
Skin grafting – Skin is removed from another part of the body and placed over the affected area.
Structural grafting – Cartilage below the skin is repaired using cartilage from another part of the body in addition to the surface area of the skin.
Dr. Grant will discuss the details of your surgical procedure with you during your consultation.
What Is Skin Cancer Reconstruction Recovery Like?
Following skin cancer reconstruction surgery, you may need to take time off from work. You will experience pain and swelling. You may also experience mild bruising and/or scarring. All scars will gradually improve in appearance over the course of a year. Cascade Facial Surgery & Aesthetics will provide you with aftercare instructions and advise you on whether you should take pain medications after your procedure.
What Do I Need to Avoid After Skin Cancer Reconstruction?
After your skin cancer reconstruction, you should take care to prevent further incidents of skin cancer. You should wear a strong sunblock with sunblock, reapply it frequently and avoid tanning booths.
Schedule Your Skin Cancer Reconstruction Consultation
If you have been diagnosed with skin cancer, you should schedule a consultation with dual board-certified and fellowship-trained facial plastic surgeon Dr. Jonathan Grant to determine whether you could benefit from reconstruction. Contact Cascade Facial Surgery & Aesthetics today to schedule your appointment by calling (360) 336-1947. We look forward to hearing from you soon.